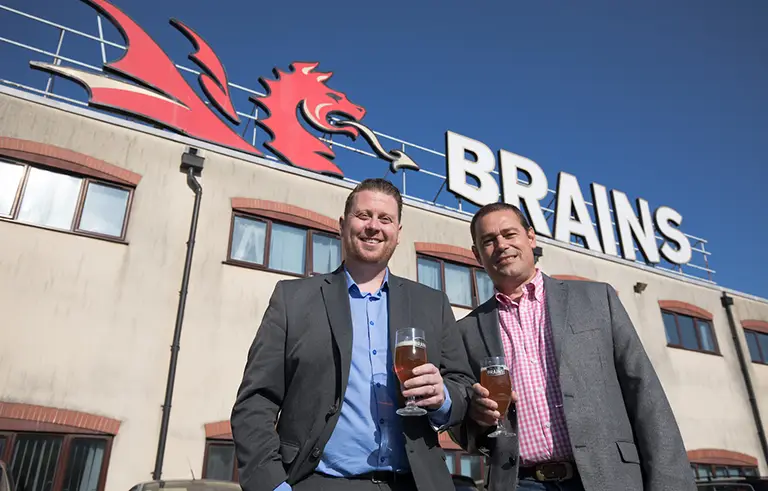 S.A. Brain & Co Ltd in partnership with export specialist Worldwide Drinks Ltd have already shipped over 750,000 pints to India this year and are set to break the one million pint mark before the close of 2016.
At the beginning of 2016, S.A. Brain embarked on a new venture producing a Belgium style Witbier called Witlinger, on behalf of a leading importer and distributor based in New Delhi, India. This has been made possible through their partnership with Worldwide Drinks Ltd.
Ross Gurney, Account Manager at S.A. Brain & Co Ltd explained:
"Our partnership with Worldwide Drinks has given us the opportunity to drive our brands into significant growing markets across the world. At Brains we are passionate about what we do, our heritage and our brewing credentials as an established brewer for over 130 years. We strongly believe that the key to our continued success is the great beer we brew and we want to share this with as many people as possible."
Worldwide Drinks Ltd, a Cowbridge based company established in 2006 has enjoyed a close partnership with Brains Brewery for the past five years.
John Howkins, Director of Worldwide Drinks Ltd explained:
"The Indian market has always been hugely challenging for British exporters, as the import taxes remain high and regulations across the different states are complex. However, the market is beginning to change and consumers are increasingly seeking more premium, imported products."
"Beer imports to India are still very much in their infancy, but as Brains have proved, with the right partner and the right product, it is possible to break into the market. Initial signs are that specially formulated Witlinger Witbier developed by Head Brewer Bill Dobson, is proving very popular with Indian consumers."
SA Brain & Co Ltd, Head Brewer, Bill Dobson added:
"It's been a great experience developing this beer for the Indian market and I'm delighted to see the initial signs of success. It's exciting to see the Brains brand reaching new parts of the world."
The beer has achieved a good level of distribution in New Delhi and is now being rolled out in Mumbai and Goa. S.A. Brain & Co. Ltd have been active in Export markets for the past 8 years and now export to over 20 markets across the globe, including destinations such as New Zealand, Hong Kong, Russia and Scandinavia.